After approximately 10 days and 230 kilometers (or 142 miles) of walking, I am in Pamplona!
Dan asked if I could post a map, 'a la Indiana Jones movies' of where I have been and where I am now, so I have done my best with 'Paint' on this cafe computer … sorry it is a bit crude but more effective I think, than no map at all, and gives everyone an idea of where the Camino de Santiago passes, and where I have been, and where my destination is: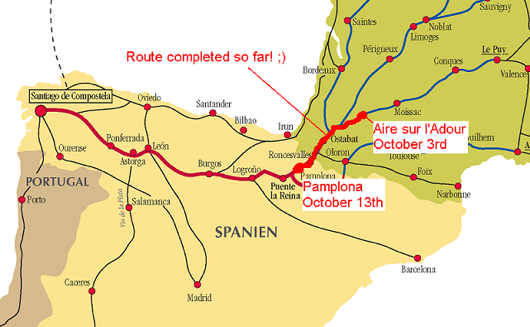 So just to explain … you're looking at a map of southwestern France and northern Spain. There are many lines of the map, because there is more than one historic pilgrimage route. During the middle ages, pilgrims came from all over Europe (from their front porch), as they say here. Especially many French came, so the routes converged (more or less) to cross over the Pyrenee mountains at the border from France to spain. And so there is one main route, called the 'Camino Frances' or the 'French road,' across northern Spain. That is the thick red line crossing northern Spain.
I colored my own trail in a slightly more radioactive color of red, we can call it 'Microsoft red.' ;) I started walking in Aire-sur-l'Adour, France, on October 3rd, and arrived in Pamplona, Spain, yesterday, October 13th.
Tomorrow I continue walking on towards Santiago tomorrow. There are about 700 kilometers left to go, or 437 miles. I should arrive there in about a month!