After about 7 days of walking in France, I arrived in St. Jean Pied-de-Port, which is the last French town before the Pyrenees and the border with Spain.
I passed through about 11am, which allowed me to experience the town shutting down for a few hours for lunch, which I can only assume is a French example of a Spanish style siesta.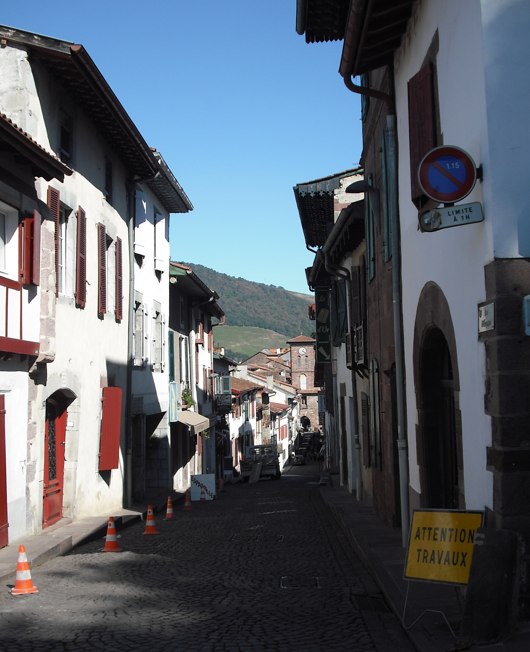 The main street of St. Jean Pied-de-Port, looking back while heading out of town to the south.
Once I headed out of town, the trail started climbing steeply. By about 3pm, I was huffing and puffing like a locomotive, but I was rewarded with quite simply, stunning views: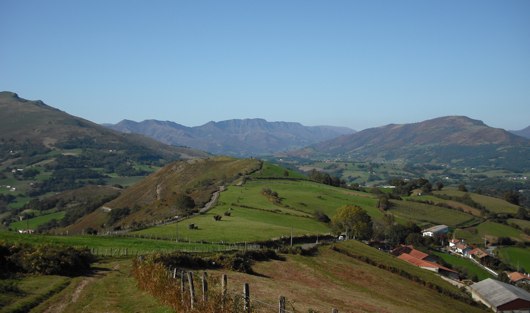 A view down into France from about 1/3rd of the way up the Pyrenees.
Lots of people have the idea that you must walk the entire 28 kilometers from St. Jean through to Roncesvalles in Spain, all in one day. Luckily that is not true and I was able to spend the night about ½ way, at the Auberge Orisson. It's a really beautiful place located far up into the mountains, with a beautiful patio that has a spectacular view. That night I met several folks who I would be walking with for the next several days.
Karen, an Irish lass, with whom I would later 'paint Pamplona red' ( we met a bunch of locals and kept shutting down bars and migrating to the next, finishing around 3am ;):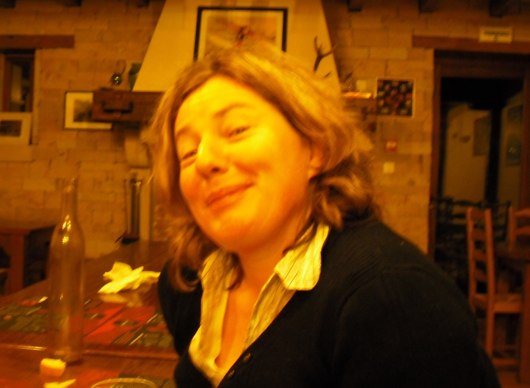 Karen at the Auberge Orisson.
And Mickey and Peter, two American brothers-in-law who were doing the walk together to see if they could forge a relationship despite their differences (Mickey is from the south, a Florida republican with a provocative streak, and Peter is a good northern boy from Minnesota.)
We stayed up late at Orisson hanging out on the patio and looking at the stars. Then the next morning, a spectacular dawn greeted us and it was time to go walk over the mountains!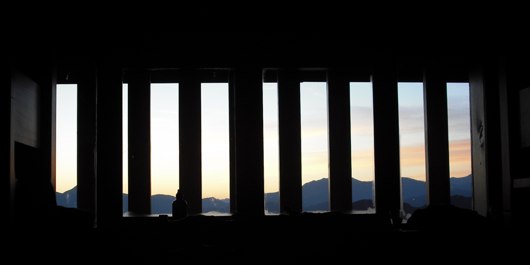 A beautiful Pyrenee sunrise.
About the crossing itself, I wrote to Meg just after we arrived in Roncesvalles:
The walk was pretty spectacular in fact, I left very early just as the sun was rising. It was a perfect dawn and the clouds were pink and golden colored. There was a VERY strong wind and we kept walking up and up … the pass was around 4500 feet, so it was a little like walking up Mt. Diablo.

The trees stopped after a while … we passed the border into Spain which was almost completely unmarked, just an old fence and a stone marker that said: '199'

At the very top you could see down into France and down into Spain. It was very beautiful. Today was quite special and I am very happy to have done it.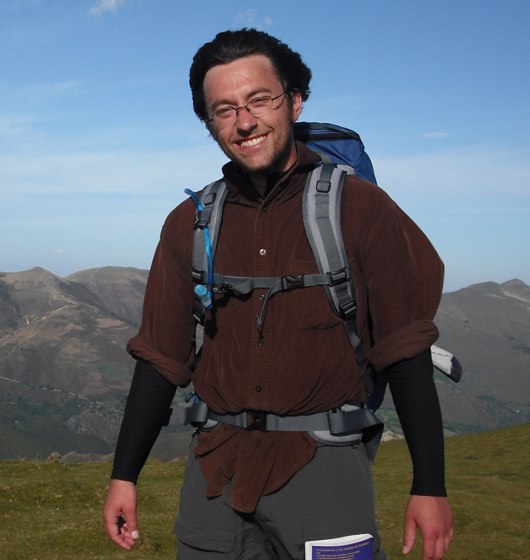 Me, near the Vierge d'Orisson, about ¾ of the way to the top of the pass. You can tell how strong the wind was from my hair!