I recently went on an extremely pleasant two-night backpacking trip. In itself that's not so remarkable. However, I did it without setting foot in a car—I accomplished all of the transportation to-and-fro using the public transportation system here in the San Francisco Bay Area.
It took a little digging to figure out how to do it. I think that people who enjoy backpacking tend to own cars, and people who take public transportation don't tend to be outdoorsy. But we are in San Francisco after all! There are surely other people like me, so I figure it's worth documenting for anyone else who is googling for backpacking trips.
From San Francisco to Point Reyes using Public Transportation
There are three steps.
First take 'Golden Gate Transit' bus #70 north to San Rafael.

Then take the West Marin Stagecoach North Route #68 to Olema.

Then walk the final ¾ of a mile to the Bear Valley Visitor Center.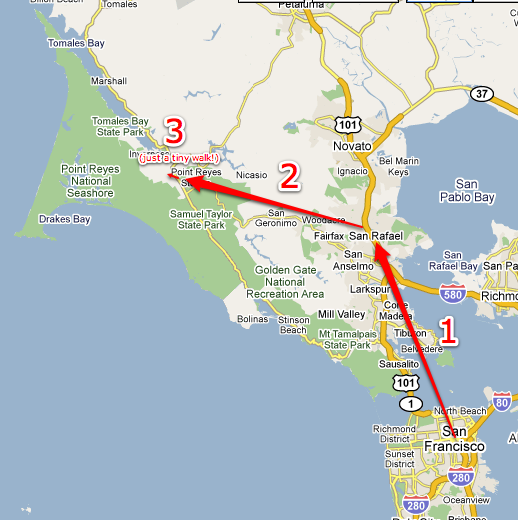 You've arrived! Get your backpacking permit, and head into the park.
Here are the specific times for one possible itinerary:
From Market & 7th in downtown SF, take the 'Golden Gate Transportation Service' bus #70 north to San Rafael. You leave Market & 7th at 6:35am (pshew!) and arrive in San Rafael at 7:31am. The reason we have to leave so early is that there are only four West Marin Stagecoach busses per day, and you need to get to San Rafael soon enough to take one of them.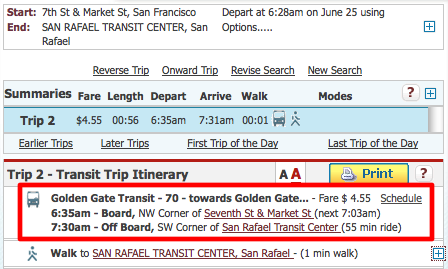 The full schedule for GGT bus 70.
From San Rafael Transit center, take the West Marin Stagecoach west to Olema.
You can see the West Marin Stagecoach page here and download the PDF version of the schedule here.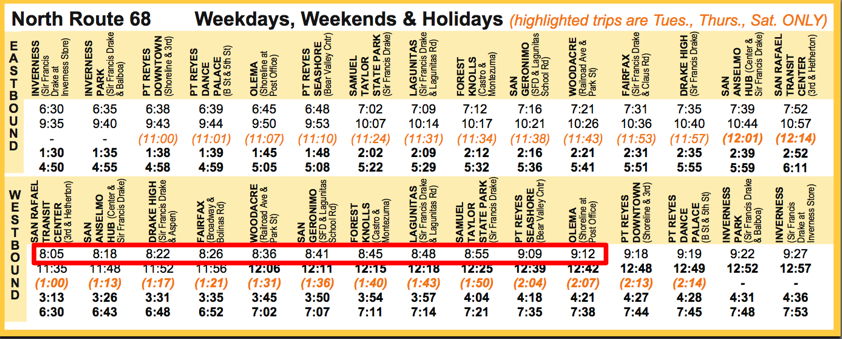 2b (optional). Eat a hearty lunch in Olema to get strength for the upcoming hiking! ;)
Walk about a mile to the Point Reyes Bear Valley Visitor Center. See a google map of the walk here.
In Point Reyes
It's not exactly relevant to the thesis of this article, but I can't resist gushing about how beautiful the park was—it definitely exceeded my expectations.
The first night I walked about 8 miles in to Wildcat camp … located in a field above a remote beach. Up above the camp there's a bluff with a bench that has simply stunning views along the coast in both directions.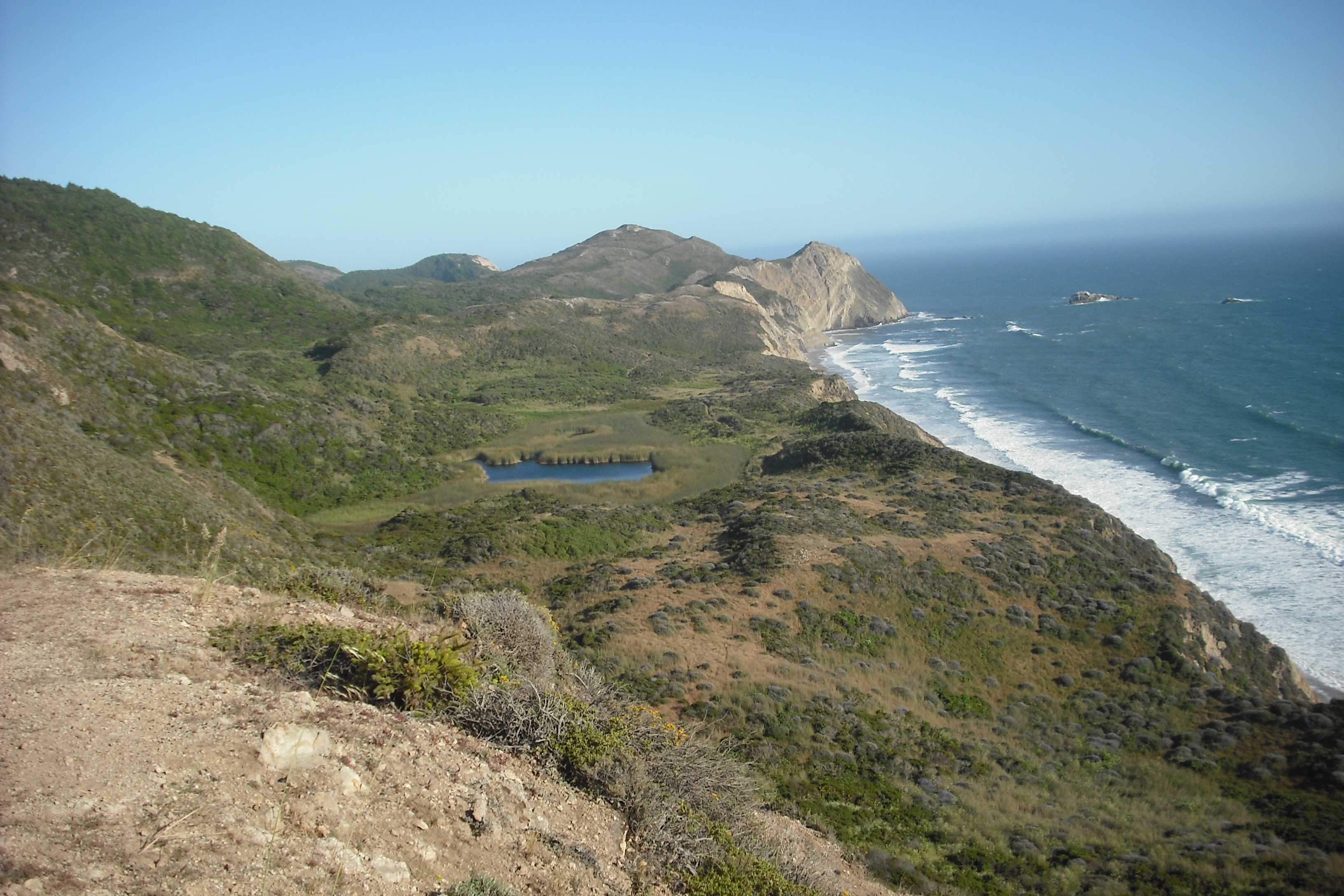 There was a lot of wildlife in the park—I kept stumbling across deer—like this handsome buck with showy, velveted antlers: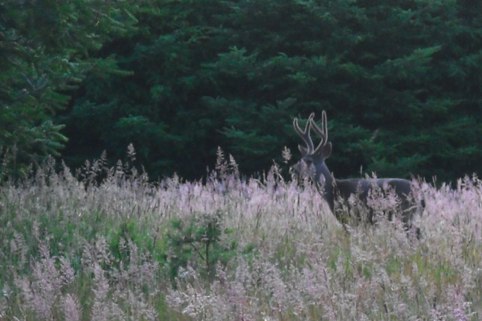 Also, the campsites are quite nice. It's not rough backpacking really—the camps all have nice pit toilets which are not at all smelly, potable water, and charcoal grills. I didn't take advantage of the grills this time, but next time I will certainly pack in a frozen steak for the first evening's dinner.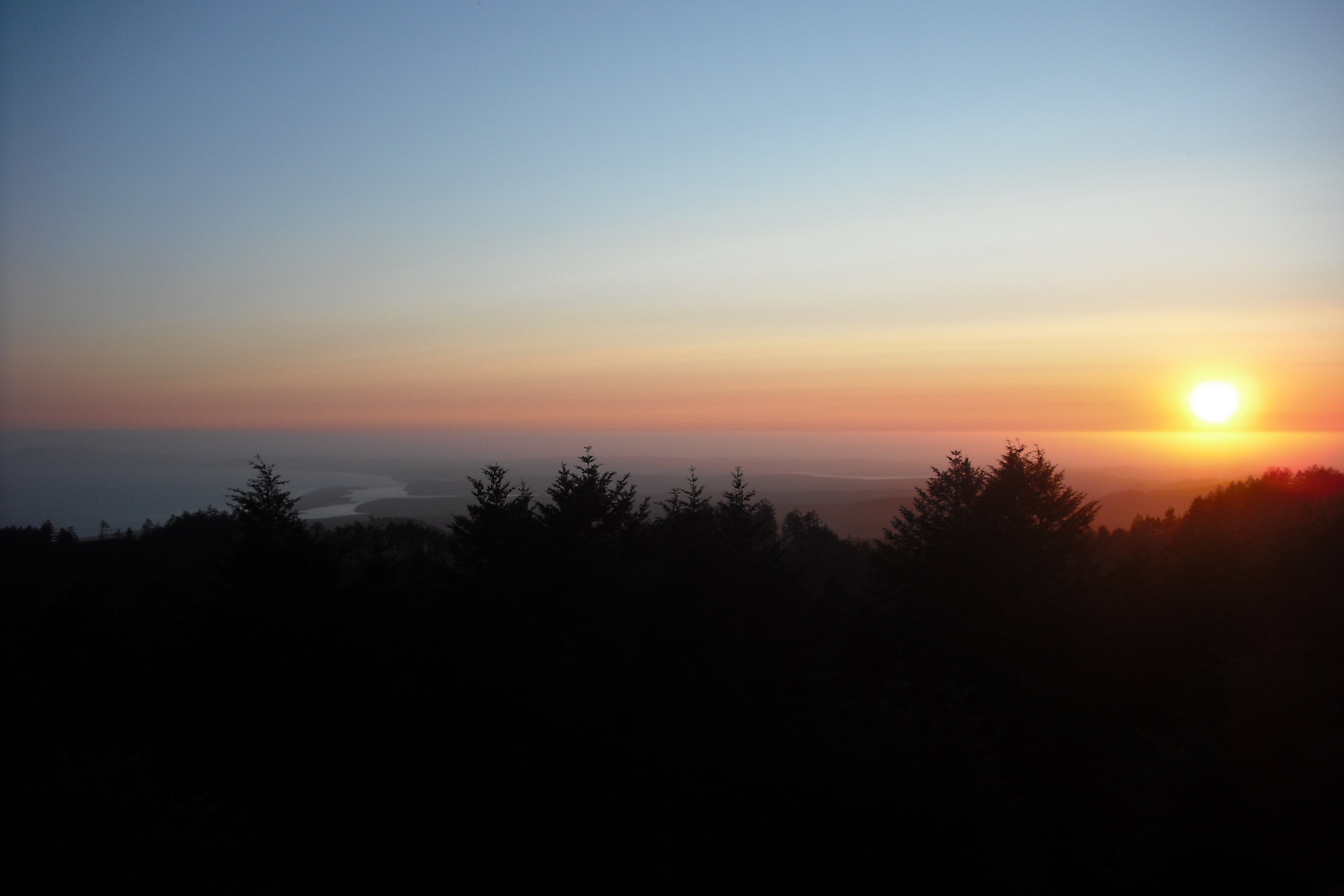 Returning
It's basically the opposite. Again there are only 4 West Marin Stagecoaches per day so you have to schedule around them.
I chose to exit the park around noon. I ate lunch (again) in Olema (there's a nice restaurant there right at the intersection of Highway 1 and Francis Drake Blvd). The bus came by at 1:45. I was back in San Rafael at 3pm. Then I took Golden Gate Transit #101 back into the city, arriving around 4pm.
Other links
Note that to backpack in Point Reyes you need a permit and a reservation. See the Point Reyes website for more information.